Merle Haggard is coming in Concert March 6th, 2009
google.com, pub-2427795083793513, DIRECT, f08c47fec0942fa0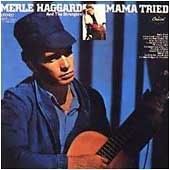 I remember as a child, Sunday was my Mom's cleaning day. So she would get up, put on a stack of country music records and get busy with the house work. One of her favorite albums was Merle haggard's "Mama Tried." I grew up on that music. It's as home grown as fried chicken and mashed potatoes (And not the instant kind either). In fact when I started playing guitar and learned how to play the entire album just because I wanted to be able to play along with it.
I haven't had the pleasure of seeing Merle in Concert yet but it looks like I am going this time. He's 71 and still touring. You can't say that about many performers. You bet I'm going to do all I can do to be there and sing along with him!! You need to go to, He is a real American Legend! Here's the ticket info!!
Tickets, priced from $30 to $45 (excluding additional handling and facility fees), go on sale at noon Friday, Jan 23 at The Centre or Roberts Stadium box offices, Ticketmaster outlets. Buy tickets online at www.ticketmaster.com or charge by phone by calling 423-7222 or (270) 926-6661 in Kentucky.